As part of May's Hazard of the Month, Welfare, we're highlighting three key areas: Managing Health and Safety, Mental Health Awareness & Stress Awareness.
Managing Health and Safety
Employers are responsibly for managing health and safety within their business, including managing risks and protecting your workers and anyone else involved in your business from harm. To do so, along with managing risk, you must also have arrangements in place to:
Plan the actions you need to take
Do the correct things to implement these plans
Check control measures are working
Act if they are not
By following this Plan, Do, Check, Act approach, you can ensure your risks are controlled, your working environment is safe, and that health and safety in your workplace is effectively managed. This will help you to identify areas for improvement, respond quickly, and continually review your arrangements.
A formal management system can also help with this – click here to learn more.
Learn more about keeping your workplace safe with our Managing Health and Safety online training! Save 10% for May only with the code 'welfare10'!
Mental Health Awareness
Mental health affects one in four people in the UK, and can be worsened by issues at work – so what can employers do to support workers with mental health conditions?
The 'Thriving at Work' report, commissioned by the government, sets out a framework of actions recommended to employers:
Create, implement, and clearly communicate a plan for mental health at work, promoting good mental health for all employees and explaining what support is available
Improve mental health awareness in the workplace by providing information, tools and support.
Foster a culture of openness in the workplace, encouraging conversations about mental health and the support available.
Offer reasonable workplace adjustments to those who need them.
Ensure working conditions are to a good standard.
Ensure workers have a healthy balance between work and their personal lives, and have opportunities to develop.
Encourage effective people management, making sure that employees regularly discuss health and wellbeing with their line manager, supervisor or organisational leader, and train and support line managers and supervisors in effective management practices.
Monitor employee mental health and wellbeing through data, talking with your employees, and an understanding of risk factors.
Learn more about mental health in the workplace with our Mental Health Awareness online training! Save 10% for May only with the code 'welfare10'!
Stress Awareness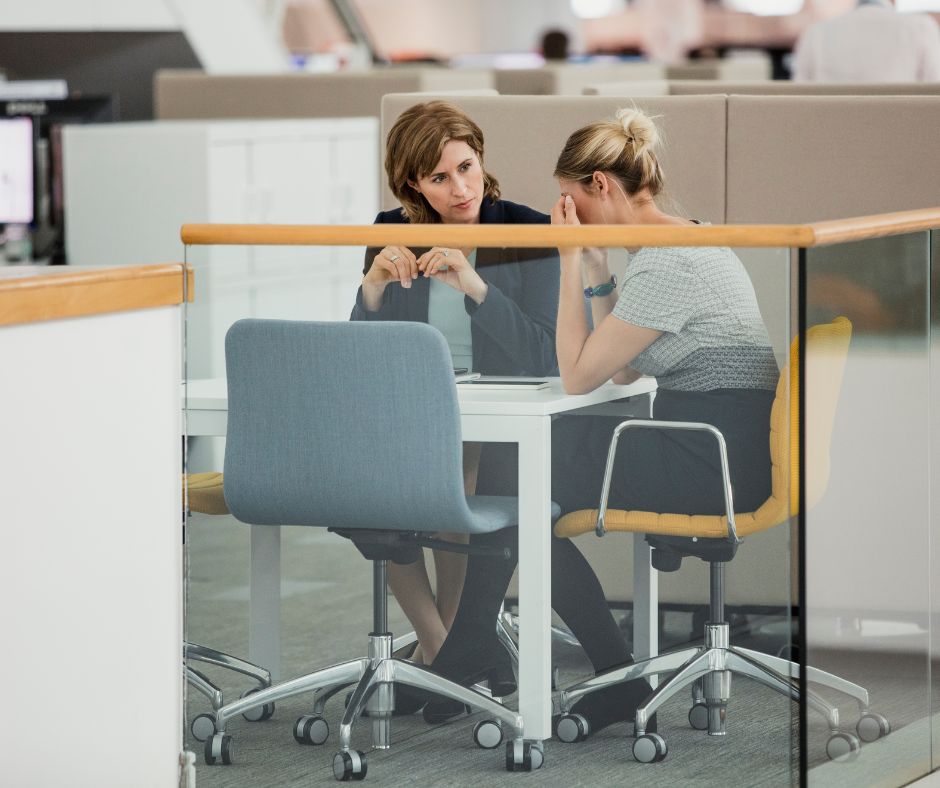 Employers have a duty by law to assess and act upon any risk of stress at work in order to protect their workers.
There are six main ways that work can affect stress levels:
Demands: Inability to cope with the demands on their job
Control: Do not haver control over the way they work
Support: Do not receive sufficient support or information
Relationships: Struggle with workplace relationships or bullying
Role: Don't have a full understanding of their role and responsibilities
Change: Not engaged with changes in the business
Risks in each of these areas should be assessed to manage stress in the workplace.
There are many signs in employees that may indicate that they are stressed. These include:
Acting more withdrawn
Taking more time off
Arriving to work late
Changes in mood, mood swings
Acting nervous and on edge
Increased emotional reactions
Reduced motivation and confidence
Learn to identify and manage work-related stress with our Stress Awareness online training! Save 10% for May only with the code 'welfare10'!
Managing Health and Safety, Mental Health Awareness & Stress Awareness training courses are essential tools in protecting and improving employee welfare. Make sure you don't miss out on our 10% off deal on these courses, available until the end of May. Simply enter the code 'welfare10' at checkout to save!
Read more Safety Spotlight blogs here
To keep up to date with the latest health & safety news and advice, follow us on social media: