Serious Mitre Saw Injury Leads to £21K Fine for Construction Company
A construction company has been fined after a worker's hand was severed by an inadequately guarded mitre saw on a construction site in Bolney, Sussex.
On the 9th January 2019, a worker installing skirting board in a new build house was using a powered mitre saw to cut material to length. The guard of the saw had been propped up, meaning the full front of the sawblade was exposed. During the works, the mitre saw fell forward on to a worker's right-hand causing part of their hand to be severed. This was re-attached in surgery, although he has not regained full use of it.
An investigation by the Health and Safety Executive (HSE) found that there was a systematic failure to ensure the mitre saw was properly guarded as well as insufficient supervision on site.
Borrowdale Construction Homes Limited pleaded guilty to breaching Section 2 (1) of the Health and Safety at Work Etc Act 1974. They were fined £21,000 and ordered to pay costs of £11,567.
Read more on the incident from the HSE's press release.
Great Barrier Reef In Danger of Downgraded World Heritage Site Status
The Great Barrier Reef is in trouble: sea surface temperatures have been gently rising, as seen in this graph by Chartr, which makes mass bleaching of coral more common.
Several bleaching events on the reef in the past five years have caused widespread loss of coral, with scientists say the main reason is rising sea temperatures as a result of global warming caused by the burning of fossil fuels.  As a result, UN body Unesco has recommended that the reef should be put on a list of World Heritage Sites that are "in danger" due to the damage it has suffered. Key targets on improving water quality had not been met, it said.
The Australian Government are not pleased with this claim, however, its own reef authority downgraded the reef's condition from poor to very poor in its five-year update and the country still remains reluctant to commit to stronger climate action, such as by signing up to a net-zero emissions target by 2050.
Read more from the BBC.
British Airways PLC Fined After Employee Sustained Serious Crush Injuries in Vehicle Collision
British Airways Plc has been fined following a vehicle collision at Terminal 5 of Heathrow Airport.
On 16 March 2018, an employee was struck by a tug pulling a train of dollies (vehicles used to transport baggage around the airport). She was knocked under another passing tug with dollies loaded with luggage, sustaining serious crush injuries.
A HSE investigation found that the injured worker was using the centre of the roadway between the two lanes as a walking route and this unsafe practice had been commonplace in the baggage hall for at least ten years. The investigation also identified significant failings in the general management of health and safety and workplace transport risks, including issues relating to supervision and monitoring, risk assessment and training.
British Airways PLC pleaded guilty to breaching section 2(1) of the Health and Safety at Work etc. Act 1974. The company was fined £1.8 million and ordered to pay costs of £35,724.
Read more from the BBC.
Investigating the Reasons Behind the Miami Building Collapse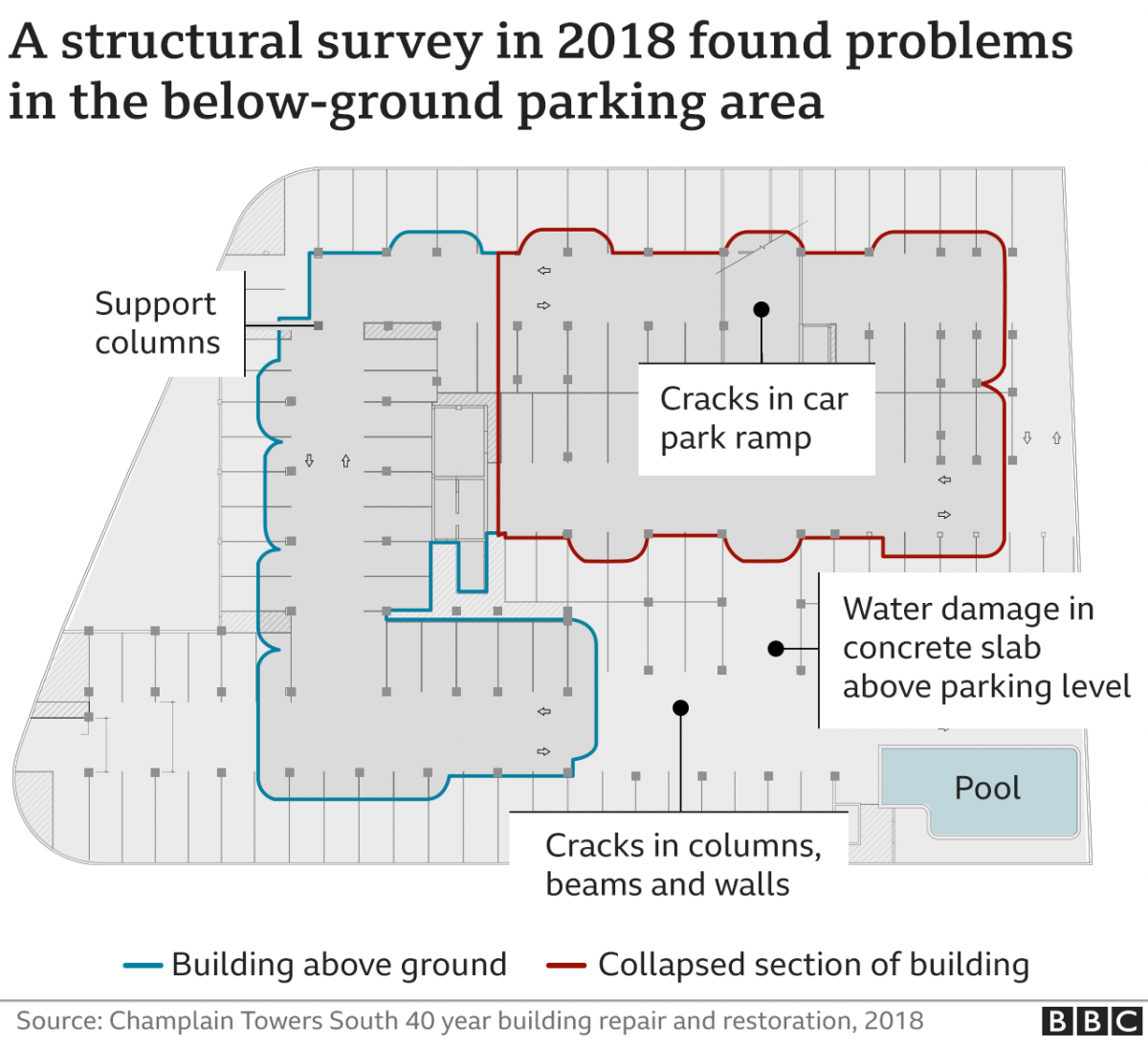 It has come to light that a 2018 structural inspection of the Miami building that collapsed last week highlighted "a major error" in the original design. The ground floor pool deck was identified as an area of concern, with reports stating that it had got much worse since then.
The engineer, Frank Morabito, warned that the deck was not sloped to drain, so any water "sits on the waterproofing until it evaporates". The report said the waterproofing below the pool deck was "beyond its useful life" and causing "major structural damage to the concrete structural slab below these areas". Failure to replace the waterproofing in the near future would, it said, cause the extent of the concrete deterioration to "expand exponentially".
In addition, video footage taken by a surveillance camera mounted on a neighbouring condominium shows that the building did not fall at once, but rather fell in stages; some experts who have viewed the footage believe that the initial collapse was at the base of the building, around the pool area in front of the south-facing central section.
As well as concrete damage, other potential causes have been suggested including land movement and new building works. As rescue efforts continue, the death toll has risen to 18 and nearly 150 people are still missing as of Wednesday.
Read more about potential causes of the building collapse on the BBC.
To keep up-to-date with more stories like these, make sure you are following us on social media!