Area of Forest the Size of France Has Regrown Naturally in the Last 20 Years, Study Suggests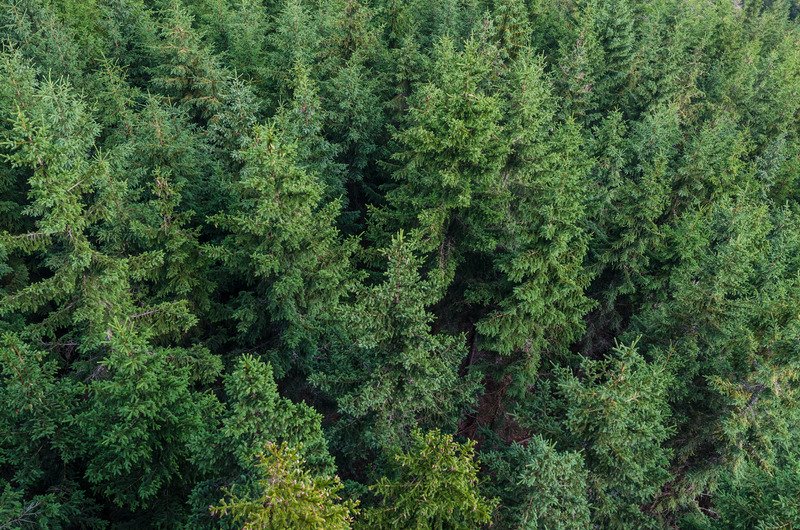 A study by WWF suggests an area of forest the size of France has regrown naturally across the world in the last 20 years. The team led by WWF used satellite data to build a map of regenerated forests.
The restored forests have the potential to soak up the equivalent of 5.9 gigatonnes (Gt) of carbon dioxide – more than the annual emissions of the US, according to conservation groups.  Forest regeneration involves restoring natural woodland through little or no intervention. This ranges from doing nothing at all to planting native trees, fencing off livestock or removing invasive plants.
William Baldwin-Cantello of WWF said natural forest regeneration is often "cheaper, richer in carbon and better for biodiversity than actively planted forests". But he said regeneration cannot be taken for granted – "to avoid dangerous climate change we must both halt deforestation and restore natural forests."
Read more about the study from BBC News.
Construction Company Fined After Worker Breaks Back in Fall From Height
A construction company has been sentenced for failing to comply with work at height regulations after a worker fell through a fibre cement roof sheet sustaining serious injuries.
On 6 September 2018, Ross Sly was replacing the roof of an agricultural building in Reading when he stepped across a roof-light onto a fibre cement roof sheet, which gave way. He fell approximately four metres on to the workshop floor, sustaining multiple fractures to his spine.
An investigation by the Health and Safety Executive (HSE) found that:
Sole trader Mark Wakefield, trading as Mark Wakefield Construction, had failed to take reasonably practicable precautions to safeguard his workers during the re-roofing work.
The workers had been put at risk of falling through fragile roof sheets above areas of the buildings where safety nets had not been installed, underneath the fragile roof sheets.
The employer had also failed to put edge protection in place around the perimeter of the main building and workshop to prevent the risk of a fall.
Mark Wakefield of Hilltop Farm, Greenhill, Swindon pleaded guilty to breaching Regulation 4 (1) of the Work at Height Regulations 2005 and was fined £1,400 and ordered to pay costs of £2,000.
International Energy Agency (IEA) Says Ban New Gas Boilers From 2025 To Reach Net-Zero
The International Energy Agency (IEA) says that no new fossil fuel boilers should be sold from 2025 if the world is to achieve net-zero emissions by the middle of this century. It's one of 400 steps on the road to net-zero proposed by the agency in a special report.
The key steps the report outlined to reach net-zero in 2050 are:
Fossil fuel use falls drastically in the net‐zero emissions scenario by 2050, and no new oil and natural gas fields are required beyond those that have already been approved for development. No new coal mines or mine extensions are required.
Emissions from electricity generation fall to net‐zero in advanced economies by 2035 and globally by 2040. Renewables drive the transformation, up from 29% of generation in 2020 to nearly 90% in 2050.
The number of public charging points for electric cars rises from around one million today to 40 million by 2030, requiring an annual investment of $90bn by the end of the decade.
By 2035, nearly all cars sold globally are electric, and by 2050 nearly all heavy trucks sold are fuel cell or electric.
Per capita income from oil and gas in countries that rely on fossil fuel production falls by around 75% from $1,800 to $450 by the 2030s.
Read more about the report from BBC News.
Two Construction Companies Fined After Excavation Collapse Seriously Injures Worker
Auberne Homes Limited and groundworks contractor W & E Lammie have been fined after an employee of W & E Lammie was crushed and severely injured during an excavation collapse.
On 20 February 2018, employees of W & E Lammie were carrying out drainage works within an excavation at a construction site at Holmhead Gardens, Cumnock, when a section of the unsupported wall of the excavation collapsed and crushed one of the employees, causing serious injuries.
The HSE's investigation identified that W & E Lammie failed:
to plan the precautions or practicable steps necessary to prevent danger to any person entering the excavation
to provide supports or battering to ensure the excavation did not collapse
to provide appropriate training and supervision to the employees carrying out the drainage works.
The investigation also identified that in their role as principal contractor, Auberne Homes Limited, failed to plan, manage and monitor the drainage works being carried out on their construction project.
W & E Lammie, a now dissolved partnership, pled guilty to breaching Regulation 15(2) of The Construction (Design and Management) Regulations 2015 and were fined £18,000. Auberne Homes Limited pled guilty to breaching Regulation 13(1) of The Construction (Design and Management) Regulations 2015 and were fined £35,000.
Read more on the case from the HSE.