Pfizer COVID-19 vaccine found to be 90% effective
The coronavirus vaccine being developed by Pfizer and BioNTech has been found to be 90% effective in preventing people from getting the virus.
Phase 3 of Pfizer's trial involved 43,538 participants from six countries. They received two doses of either the immunisation or a placebo, with 90% protected from the virus within 28 days of having their jabs. Only 94 people who took part in the trial developed coronavirus and no serious safety concerns were reported, the US pharmaceutical firm said.
"Today is a great day for science and humanity. The first set of results from our Phase 3 COVID-19 vaccine trial provides the initial evidence of our vaccine's ability to prevent COVID-19," said Pfizer chairman and chief executive Dr Albert Bourla.
Read more from Sky News.
HSE releases annual injury and ill-health statistics for Great Britain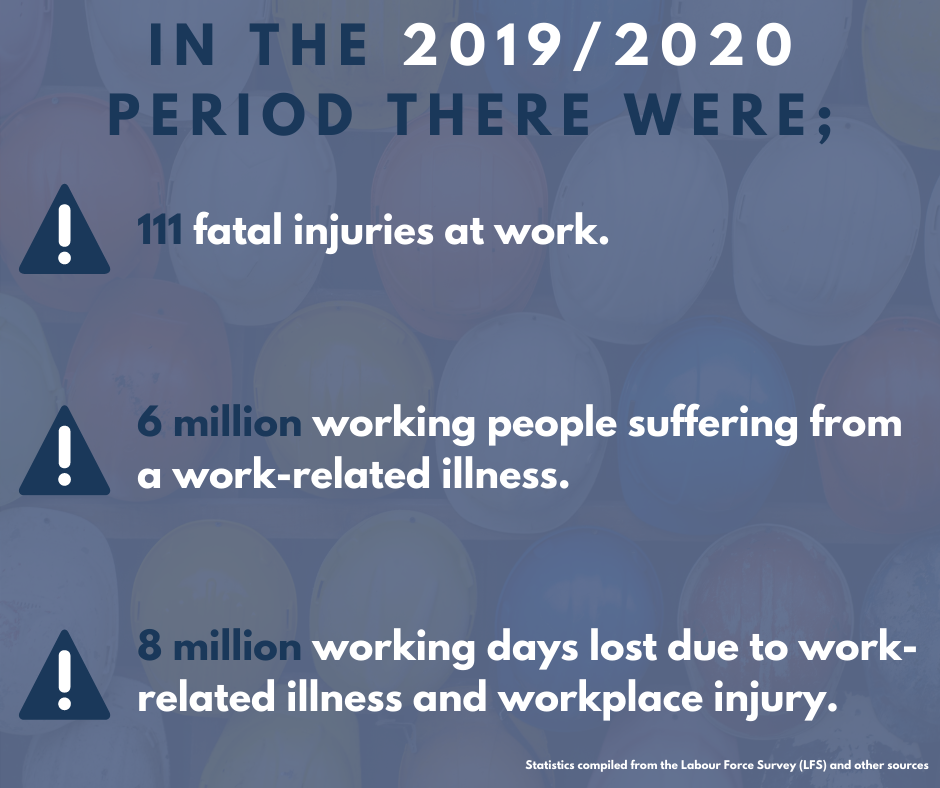 Statistics released by the Health and Safety Executive (HSE) show that Great Britain is still one of the safest places in the world to work with the lowest number of deaths on record. However, more than half of Britain's working days lost in 2019/20 were due to mental ill-health.
The annual report by the Health and Safety Executive (HSE) includes statistics for work-related ill health, workplace injuries, working days lost, enforcement action taken, and the associated costs to Great Britain. The emergence of COVID-19 as a national health issue at the end of final quarter of 2019/20 does not appear to be the main driver of changes seen in the 2019/20 data, although it is possible that COVID-19 may be a contributory factor.
Figures show that around 693,000 workers sustained non-fatal injuries in 2019/2020 and 1.6 million workers suffering from work-related ill-health.
The statistics, compiled from the Labour Force Survey (LFS) and other sources, illustrate that in Great Britain in the 2019/2020 period there were;
111 fatal injuries at work
1.6 million working people suffering from a work-related illness
38.8 million working days lost due to work-related illness and workplace injury
325 cases were prosecuted and resulted in a conviction. Fines from convictions totalled £35.8 million
In 2019/2020, the estimated economic cost to Great Britain totalled £16.2 billion with 38.8 million working days lost.
Read more on the data from the HSE.
New Research Blog!
As the cold creeps in and the lights switch on at 5pm, it is important to be especially careful when driving this Autumn/Winter period. Just like we change how we dress in different seasons, motorists need to adapt the way we drive and be prepared for journeys that may take us through very varied weather, road and traffic conditions.
You can read our top tips and expert advice on our new Research Blog!
For this month only, we also have 10% off our 'Driving Safely' and 'Time Management' online training courses with the code 'Drive20'. These courses are ideal for those who drive to work as a way to assess the safety of their driving and how well they plan their time in order to avoid rushing journeys.
COVID-19 National Restrictions
England is currently under restrictions as part of the second national COVID-19 lockdown of the year. It can be confusing to know what you can and can't do during this lockdown, especially in comparison to the first.
The Government has released a poster that explains what you are allowed to do and what is prohibited during this lockdown. It covers topics including meeting indoors/outdoors, working from home, shopping and exercise.
You can view and download this poster on the GOV.UK website.
Manufacturing Company Fined After Worker Suffers Brain Injury in Forklift Truck Incident
A company that manufactures metal pressings and sub-assemblies for the automotive industry, has been fined after a worker was struck by a forklift truck and suffered a serious brain injury.
The worker needed to be placed in an induced coma after a forklift truck struck him at a premises on 23 November 2018.
The HSE's investigation found that there was inadequate control of workplace transport risks. This included lack of segregation between vehicles and pedestrians, no safe pedestrian crossings where vehicle and pedestrian routes crossed and insufficient safety signage to highlight hazards.
G-Tekt Europe Manufacturing Limited was found guilty of breaching Regulation 4(1) of the Workplace (Health, Safety and Welfare) Regulations 1992 and was fined £525,000 and ordered to pay costs of £8,014.40.
Read more from SHPOnline.