Train Derailment Near Stonehaven in Scotland Kills 3
On Wednesday 12th August, a train derailed near Stonehaven in Scotland, leaving 3 people dead. Scotland's transport secretary has said extreme weather had an impact on the accident. Michael Matheson has said an investigation into the accident would establish what lessons could be learned.
Driver Brett McCullough, conductor Donald Dinnie and a passenger died when the Aberdeen to Glasgow service derailed near Stonehaven on Wednesday. The train is thought to have hit a landslide after rain and thunderstorms. Six other people who were on board the 06:38 Aberdeen to Glasgow Queen Street service were taken to hospital, but their injuries were not believed to be serious.
Mr Matheson arrived at the site of the crash on Thursday morning. He said: "What we don't want to do at this particular point is to start to speculate about what actually caused it. What I think we can assess, though, is that weather has had an impact. We are seeing increasingly a higher level of what are localised intense weather events that are having an impact on the transport network, including the rail network. What we need to do as part of the investigation is identify to what extent it had an impact and also to see what lessons can be learned." He said some parts of the country had seen a month's rainfall in just a couple of hours on Tuesday night and Wednesday morning.
Read more on the incident from the BBC.
Mauritius Races To Contain Oil Spill From Grounded Ship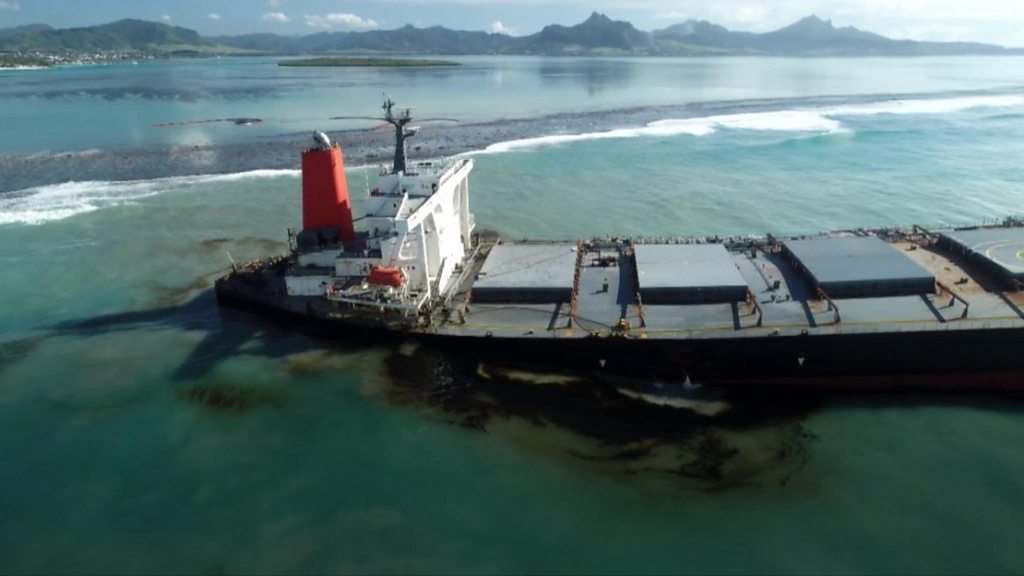 Volunteers in Mauritius are scrambling to create cordons to keep leaking oil from a ship away from the island. The MV Wakashio, believed to have been carrying 4,000 tonnes of fuel oil, ran aground on a coral reef off the Indian Ocean island on 25 July.
Locals are making absorbent barriers of straw stuffed into fabric sacks in an attempt to contain and absorb the oil. Their actions go against an order from the government asking people to leave the clean-up to local authorities. "People have realised that they need to take things into their hands. We are here to protect our fauna and flora," environmental activist Ashok Subron told AFP news agency.
Mauritius is home to world-renowned coral reefs, and tourism is a crucial part of its economy.
Read more on the case from the BBC.
Tower Hamlets Council Charged Over Girl Killed By Rotting Swing
Tower Hamlets council has been charged with health and safety breaches over the death of a five-year-old girl in a playground and faces a potential £2 million legal bill. Schoolgirl Alexia Walenkaki died in Mile End Park when a rotting log swing collapsed on her on July 17, 2015 — the day before her sixth birthday. Tower Hamlets council last week signed off a £2 million "extraordinary cost item" from its children's services budget to pay a potential fine and its legal costs, as the Health and Safety Executive brings a prosecution. The authority has been charged with breaching the Health and Safety at Work Act 1974. A hearing is due to take place in October at Westminster magistrates' court. The borough's mayor John Biggs told the Standard that the authority is planning to plead guilty.
In 2018 a report by the CPS's special crime division found that the council, two of its employees and the contractor who designed and fitted the equipment in Mile End Park playground had "breached their duty of care". It highlighted that the council had failed to organise annual inspections of the play equipment and said the wood used was unsuitable. Although the report found "serious breaches" and a series of failings, it concluded no criminal charges would be brought against individuals or the local authority.
Read more from The Evening Standard.
Which Face Covering is the Most Effective?
Scientists have tested 14 different types of face-covering and found that one of them actually increases the risk of coronavirus infection. Researchers at Duke University in North Carolina tested coverings ranging from the kind worn by healthcare professionals to neck fleeces and knitted masks. The study's authors compared the dispersal of droplets from a participant's breath while they were wearing one of the coverings to the results of a control trial where their mouth was fully exposed.
The study found:
The least effective face-covering in the study was a neck fleece which was found to actually increase the risk of infection by having a "droplet transmission fraction" of 110%.
A bandana was the second worst-performing face-covering but it did not increase the risk of infection, while a knitted covering was third worst.
The most effective face-covering in the study was a fitted N95 mask without valves which had a droplet transmission fraction of 0.1%. The hospital-grade coverings are used by frontline healthcare workers.
A surgical mask performed second best while a polypropylene mask came in third.
Handmade cotton face coverings were also shown to perform well and eliminated a substantial amount of the spray from normal speech.
Read more from Sky News.
Tea Plantation Landslide Kills 49 in India With More Feared Buried
Forty-nine people have died after a landslide at a tea plantation in India – with fears at least 20 more are buried under debris. Incessant rain caused a hillock at the tea plantation in Idukki district in Kerala, southern India, to come crashing down on a row of workers' living quarters on Friday night. At the time of the landslide, 78 people were living in about 30 rooms. Most of the families were asleep when the landslide hit the plantation at Rajmala, in Munnar, overnight.
It was not until Saturday morning that authorities were made aware of the incident as communication lines were down due to heavy downpours, while a rescue operation was further delayed as the main bridge and road leading to the plantation had been swept away.
Read more on the incident from Sky News.