New IOSH Course looks to tackle impact of workplace diseases
At Health and Safety Expo 2018, IOSH unveiled a new course on 'Managing Occupational Health and Wellbeing' in an attempt to raise employer awareness. Over 26 million working days were lost in 2016/17, costing the UK over £100 billion in lost productivity and revenue. Workplace illnesses continue to be a persistent, but often neglected, risk.
This month, WA Management looks to shed light on such illnesses through our 'Hazard of the Month' for July: Aspergillosis. We can offer comprehensive and relevant online training for you and your employees on workplace diseases, with prices starting as low as £12.50 + VAT.
Read the full article HERE
Report commissioned by the Scottish Government suggests local authorities are "regularly failing" to tackle fire safety defects
A recent report, authored by renowned Buildings Standards expert Professor John Cole CBE suggests that regulatory authorities are repeatedly failing to tackle fire safety concerns. The report, commissioned in the wake of the Grenfell Tower disaster stated that not enough resources were being given to inspectors, meaning they lacked the 'capability and capacity' to fulfill their duty to the highest standards.
Read the full article HERE
"You are emitting data but you don't know you are" warns Data Protection Masterclass at IFSEC 2018
Former Presidential Advisor Dr Pippa Malmgren spoke at IFSEC 2018 on the massive challenges facing data protection and personal privacy in the modern, technological age. She said that "This ubiquitous data environment is something we all need to get a grip on if we're really going to think seriously about resilience and understanding the world around us,".
Contact WA Management today to enquire about our online training courses, which could protect you and your business from cybercrime from as little as £12.50 + VAT!
Read the article online HERE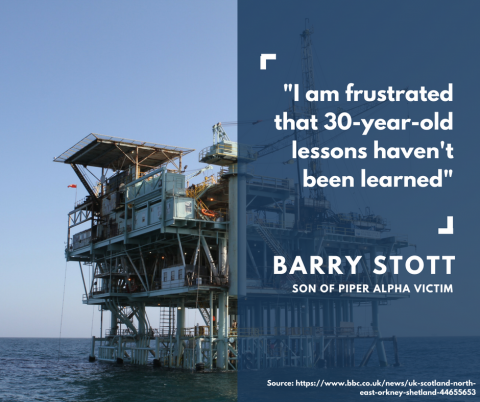 Son of Piper Alpha victim asks whether enough is being done to prevent future tragedies, 30 years after the event
30 years after the Piper Alpha disaster, which claimed the lives of 167 men, the BBC interviewed the son of one of the victims to discuss whether enough was being done to prevent future tragedies. Barry Stott spoke of an 'irrational fear' around safety after the death of his father.
Read the full article HERE
CoreHR outlines worrying risks between workplace stress and mental wellbeing in its latest report
HR firm CoreHR reported this week on the worrying relationship between workplace stress and personal mental health. It argued that the 'Health' in 'Health and Safety' must always reflect both physical and mental aspects. Interestingly, the report also highlighted the extent to which employees felt that mental health in the workplace was the shared responsibility of both the worker and the employer.
Read the original report HERE
The Health Insurance Group says workers should be inspired by July Sporting events to get more active
The Health Insurance Group, this week, used the multitude of sporting events in July to promote an active and healthy lifestyle. Relating to workplace mental health, it was stated that regular sport could decrease signs of depression by up to 30%. Here at WA Management, we see sport as a fantastic way to encourage team cohesion and communication – provided it is done safely!
Read the full article HERE